Bio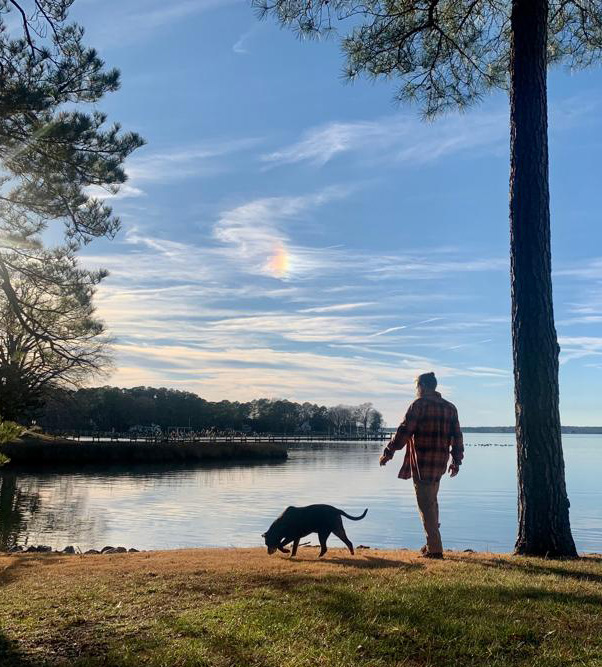 "Piggy and Dave on a Stroll by Gloribet Agosto-Rosa" Bozman, Maryland.
Dave Dunn's art is defined by a unique ability to invest his metal constructions with both whimsy and primordial dark mystery. His works draw on imagery and meaning from a metallurgical era lost to the modern age. His frequent use of medieval imagery in his welded and forged work evokes in the viewer an historical allegory, while imbuing his creatures of nature with abstract nuance and fantasy.
Combining the rough steel imagery of medieval armaments and imbued with historical symbols of contest, his creatures take on mysterious and fantastical life forms. Drawing on a lifelong environmental consciousness, he assembles repurposed tools, found metal pieces or modern steel implements with deft creativity, offering the viewer a more modern and empathetic connection through movement and personality.
From his earliest years growing up on a creek flowing into the Chesapeake Bay, he combined driftwood and other found objects deposited by high tides and repurposed them into art objects while daydreaming about what lurked beneath the waves. He also spent formative years living in Paris, France, the son of an American diplomat, surrounded by the medieval and renaissance imagery of the old world. Today he works out of both his main studio at DunnInMetal Studios in Silver Spring, Maryland and in his smaller Bozman, Maryland workspace on Harris Creek.
Dave Dunn's work is represented by New Orleans' Octavia Gallery on Artsy and First Dibs and in private collections in Paris and Normandy France, Willerzell Switzerland, New York City and Shelter Island NY, Los Angeles and Malibu California, Washington DC, New Orleans LA, Lexington KY, Asheville NC, Austin TX, Key West FL, the Hunt Country of Virginia, Santa Fe, New Mexico and Talbot County MD.